2014 Port of Pinot Noir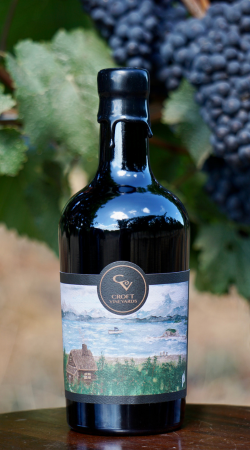 This project started back in 2014 when Co-Founder, Toni Croft's love for port wines influenced our own project. The artwork is inspired by Yukon Island- a homestead in Kachemak Bay, Alaska. Toni's best friend would share this special place with the Croft's on occasional summers for nearly 50 years. Artwork is created by our dear family member, Katelyn Nelson. So much detail, precision and love went into each bottle and is sure to be treasured for decades to come.
---
Barrel aged for 7 years, this tawny style port is made from 100% pinot noir grapes and fortified with brandy. Incredibly smooth, with subtleties of blackberries, chocolate sauce and butterscotch.
Wine Specs
Aging
Drink now through 2044
Wine Profile
Food Pairing Notes
rich flavored cheeses, chocolate and caramel desserts, salted and smoked nuts and barbecue.
Production
Produced 56 cases
Product Reviews